Book a Mandala Experience
Are you hosting a conference? Running a retreat?
Visual art could be the key to standing out in the memories of your audience. For over a decade, Katie Jo has brought the artistic ritual of live sand painting to schools, festivals, professional training retreats, and religious celebrations. Each one-of-a-kind Sand Mandala is designed to communicate the message, and augment the theme, of the event that hosts it. A mandala creation can also act as a stand-alone event to celebrate something beautiful among family and friends.
"Katie Jo Suddaby was such a special addition to School #58's Year End Celebration of Learning. She was very flexible, professional and was so easy to work with. She even designed a special mandala specific to my school's mascot. She has a vast knowledge of the history of mandalas. I would highly recommend Katie Jo for any type of event. A Suddaby Mandala Experience will captivate audiences of all ages. The deconstruction of the mandala was described by a fellow teacher as the most powerful experience he has been involved in at my school."
—Jesse Pryor, math teacher at World of Inquiry School 58, Rochester, NY
"As a public speaker and festival organizer myself," says Suddaby, "I know that conference organizers and educators have an important message to communicate. My art gives their audiences a visual, visceral experience; so the ideas and information sink deep and have lasting effects on one's spiritual and intellectual journey."
Groups and individuals can book a Suddaby Mandala Experience by filling out form below. Prices are flexible to fit your organization's budget and discounts are available for nonprofits.
Book a Suddaby Mandala Experience: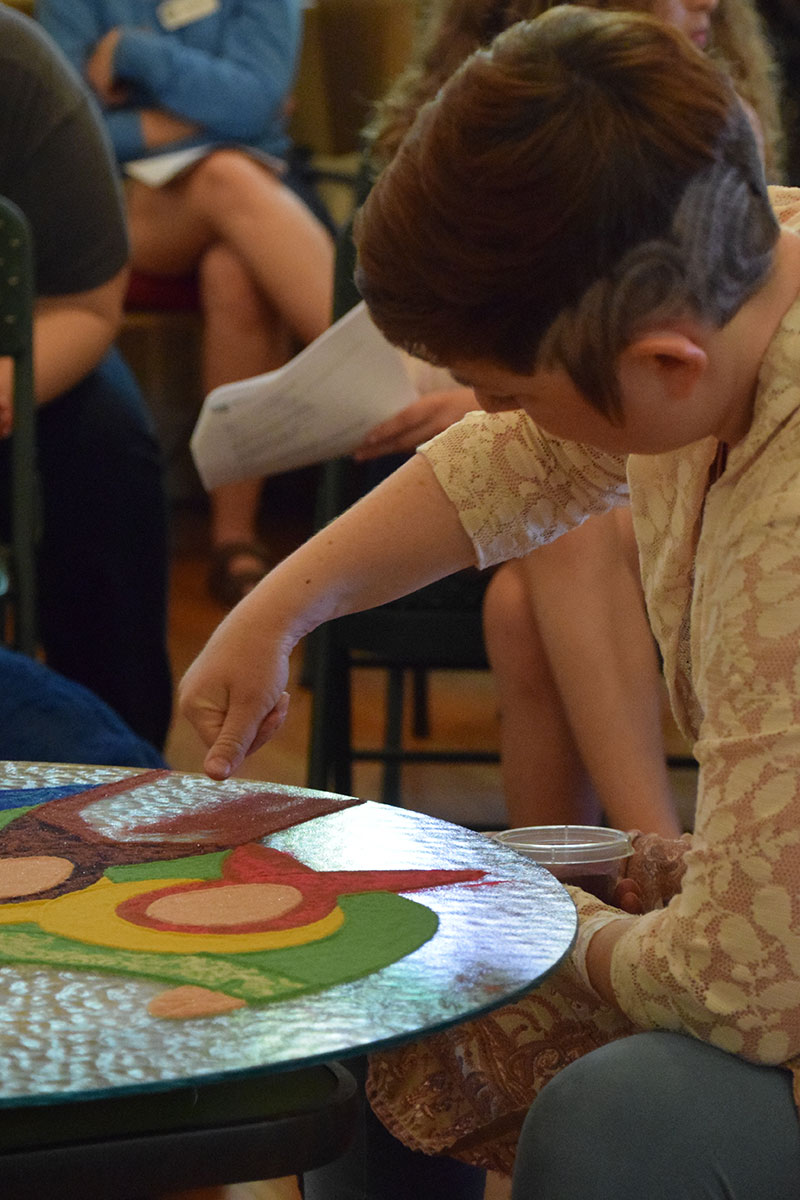 How to pitch this to your boss/co-organizers
"We want people to feel the impact of this event long after it is over. Adding visual art to our offerings might be just the thing that makes our event stand out. Katie Jo Suddaby is a traveling artist who creates beautiful, impermanent sand paintings for large gatherings. We could put her in the front lobby so people can watch the sand painting take shape as they go from workshop to workshop. Her works, called mandalas, are made of thousands of grains of colorful sand that form a picture. At the end of our event, she will lead everyone in a Dissolution Ceremony where we will brush the sand image away as a way to envision taking what we experienced all weekend back to the places we live."